'It used to be a question of balancing: either a new product, or the monthly salary of a top goal scorer?'
FC Volendam stands for tradition, an excellent youth system and technically sophisticated football. It also carries the rather unfortunate title of 'yo-yo club' of the Netherlands (no other Dutch team has been relegated and promoted more). With their trainer Wim Jonk, they also have a true icon in charge of the team. But how does this ambitious mid- to top-table football club in the 'Keuken Kampioen Divisie' deal with the logistical aspects of merchandising? We presented Martijn Molleman (commercial manager) with four pressing questions. It's a compelling story about the logistical obstacles of a fan shop in football.
What's the most popular merchandising item among Volendam fans?
Martijn Molleman: 'Apart from the 'classics' (shirts, scarves and knit caps), there are three products that stand out. Young people like to practice their skills using a football in their club's colours. Our minishirts adorn many a rear-view mirror, and our team pennants seem to appeal to many as well, in good Dutch tradition.'
'Clubs routinely exchange team pennants during preparations, at friendly matches with Eredivisie clubs or at cup matches. When PSV were here for a cup match a few years ago, team captain Luuk De Jong was waiting impatiently in the players' tunnel holding his red-and-white pennant. That's when our captain suddenly realized that he was standing there empty-handed… One of our employees quickly rushed over to the fan shop to grab a Volendam team pennant. She was back just in time to hand it over to our captain before both teams walked onto the field. (laughs)'
Just one more proof that a fan shop remains essential in football. But what obstacles does a club like Volendam face when it comes to merchandising?
Martijn Molleman: 'Actually, there are two. First, suppliers often require you to order at least 1,000 items before starting production. This entails a substantial investment and, what's more, it will take years to sell the entire stock and see a return on investment. FC Volendam are obviously not comparable to Ajax, Feyenoord or PSV. The fan base of the Big Three is so large that all the items in their fan shop sell like hotcakes. Because FC Volendam's fan base isn't that sizeable, it always took some careful consideration before deciding to buy a new product. The management prefer to spend their budget on the monthly salary of an easy-scoring striker rather than on the purchase of 1,000 Volendam mugs.'
'Also, the logistical processing related to our web shop was very complex. With our previous supplier, an item ordered from the web shop was shipped to the customer if the item in question was available. But often, this wasn't the case, which meant that they would forward the order to our physical fan shop, which is open from Wednesday to Sunday. If you sent an e-mail on Sunday and your product was out of stock, your order wasn't processed until three days later. In e-commerce, that's an eternity. What's more, the shipment required additional action on the part of the fan shop staff.'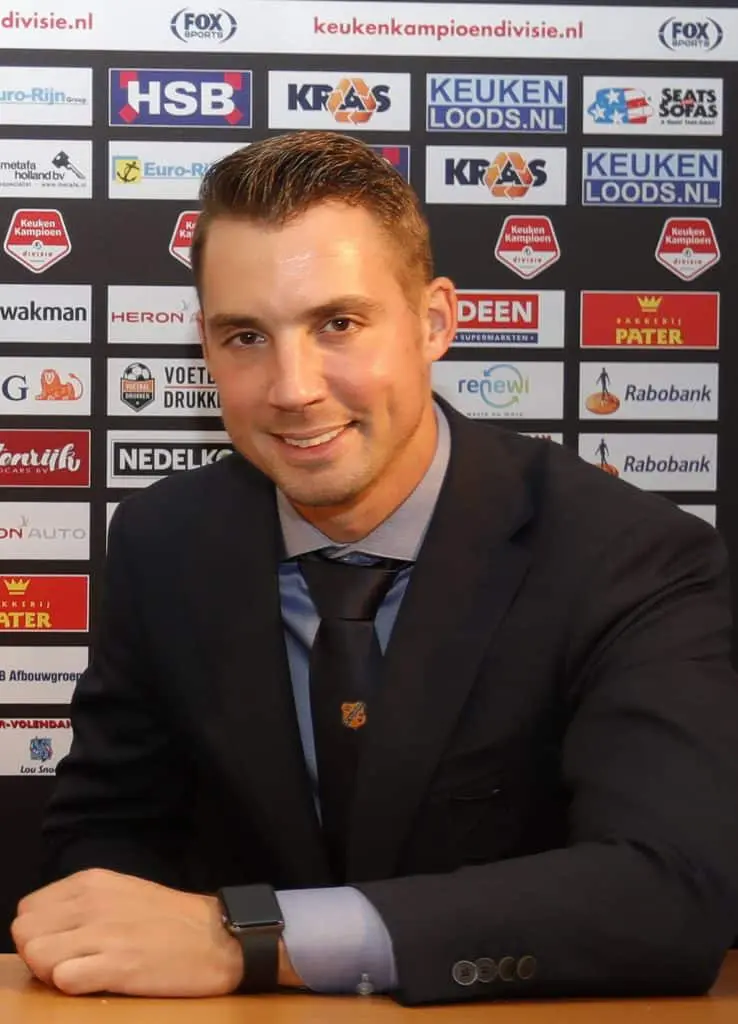 That's why you decided some time ago to try a different approach to merchandising?
Martijn Molleman: 'Exactly. Since joining forces with Topfanz, the two main obstacles have been overcome. Because Topfanz take on the inventory risk, we're less hesitant to launch new products. Together with Gilles, we've completed the product range in our fan shop. Because football is a continually evolving business, we've decided to introduce three major novelties: our baby items (bodysuits, bibs, etc.), a 'car scarf' with a typical Volendam text and a casual clothing line. With this line, we hope to tap into a new target group. Because of the location of Volendam along the IJsselmeer, it's a popular destination for tourists. You can see plenty of Japanese and Chinese strolling along the dyke. By offering stylish club clothes in the souvenir shops located on the dyke, we hope to attract these tourists.'
'The logistical processing goes much more smoothly now. It's Topfanz that propose new products, come up with a design and manage the inventory. If you order an item in the web shop, they'll ship it directly from their warehouse. We continue to take care of sales in the physical fan shop ourselves, of course.'
Both a web shop and a fan shop are important in football. What's the ratio between online and offline sales in your case?
Martijn Molleman: 'Currently, 80% of our merchandising is still being sold through the fan shop, which is not surprising when you analyse football in Volendam: almost all of our fans are people born and bred in Volendam. Still, our physical shop could do with some improvements here and there. Just a funny anecdote to illustrate my point: a while ago, one of our directors was so convinced that the colour blue makes people want to buy that he decided to paint our fan shop blue. It's a combination that looks a bit odd considering the fact that the colour of our team is orange. We plan to reorganize the layout of our shop soon. I think it's likely some orange paint will be used in the process… (laughs).'
'When it comes to online sales, we have even more margin for progress. The buying threshold is lower and a web shop is open 24 hours a day. I expect the ratio between online and offline sales to become fifty-fifty in the foreseeable future. Marketing through social media gives an enormous boost to a web shop. Just think of channels like Facebook, Twitter, and especially Instagram. If you have more than 5,000 followers on Instagram, you can add a shop button to each post. The results are really amazing.'
Looking to organize your football web shop or fan shop more efficiently?
Topfanz' fan consultants will be happy to help you!