Fan experience in coronavirus times: solutions for the two main problems
In recent months, football clubs have been grappling with two questions. How do we maintain the loyalty of our fans? And how do we ensure safety when football fans are allowed back into stadiums? Fortunately, current events stimulate our creativity: with the help of the football clubs, Topfanz started looking for answers to these pressing questions. To inspire you, we have compiled 7 inspiring initiatives that will benefit the health and loyalty of your fans.
"Over the course of six months, mouth masks have become our best-selling fan item ever"
Supporter loyalty through health
These past months, football stadiums looked rather deserted. Without fans, the joy of the game was reduced to an occasional elbow bump and the sound of the coach's voice. Now that stadiums are gradually opening again, clubs are looking after the health of their fans.
1. Mouth masks in club colours
Until mid-March, a mouth mask was something of an exotic curiosity in Belgium. When the National Security Council made face protection compulsory in various places, there was a sudden, unprecedented rush on customised masks. Topfanz responded immediately by developing masks bearing the club logo. Teams that included the mouth mask in their merchandising offer often sold their entire stock in no time. The result of this fan loyalty? Six months later, mouth masks are the best-selling merchandising item ever for all teams.
 
In the meantime, Topfanz continues to monitor mask developments abroad, such as Ajax's CapEazy experiment: their mask closely resembles that of a beekeeper. The front of the mask has a transparent and flexible window. Surrounding this is a fabric casing with plenty of room for club logos.
2. KV Mechelen and STVV: safety pack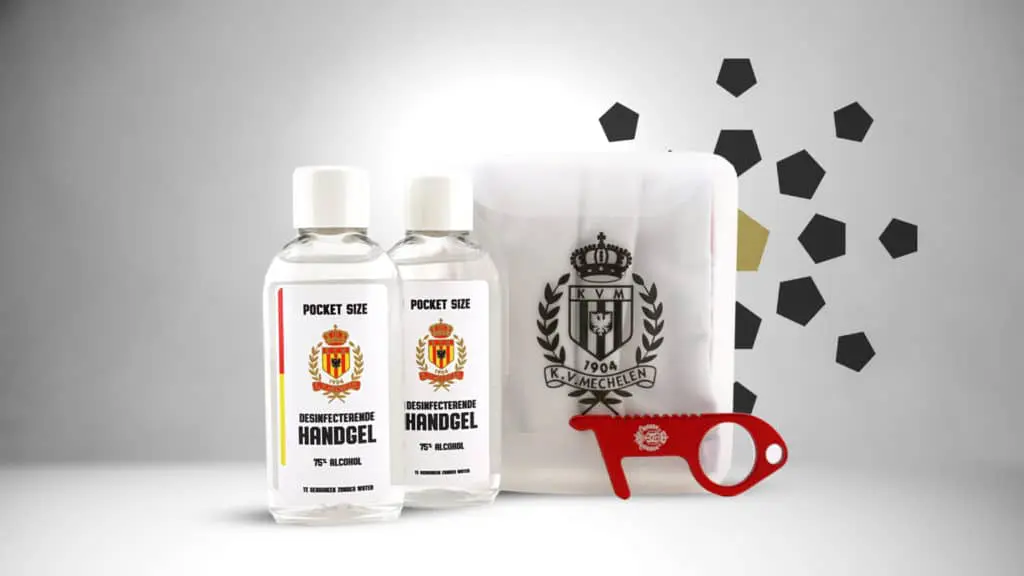 In addition to the mouth mask, this safety pack contains a pouch for storing the mask safely, a clean hands keychain and a small bottle of hand gel. In other words, everything you need as a football fan to cheer on your team safely from the stands. These safety packs are also selling like hot cakes:
KV Mechelen sold out their 100 test kits of the safety pack in just a few days. The requests keep on coming in.
STVV fans can buy a safety pack at the entrance of the stadium. As a bonus, the Canaries also offer a key ring. Are you running out of hand gel? It can be bought separately. This means you can use the pack as long as you need it.
Anderlecht also offers their supporters a safety pack. The real test will be when the supporters are actually in the stands, but the first reactions are very positive.
Fan loyalty: from compensation to business promotion
The fans are the lifeblood of any club. They enjoy their team's performances and carry the team through difficult times. Financially, too, they provide the necessary continuity. To reward their fee-paying fans and keep them on board, several clubs have launched loyalty programmes.

1. KRC Genk: financial compensation
Last season's final matches were already played without spectators. As a compensation and anticipating a first half of the season without fans, KRC Genk decided to extend all memberships automatically. That way, all members could still enjoy the average number of matches of a normal season. A nice gesture to express their appreciation for their fans' loyalty.


2. Club Bruges: donation or shirt
Club Bruges revealed their creative side. The national champion offered its supporters three choices
> They got a refund.
> They donated the entrance fee for each game to the female team, a youth team, the first team or one of the charity projects that Club Bruges supports.
> They could sign up for an exclusive shirt, specially designed for them and presented during the upcoming Christmas period. So far, more than 6,000 fans have opted for this experience shirt.


3. Cercle Bruges, Zulte Waregem and Beerschot: classics to reward fan loyalty
Scarves and shirts have always been the best-selling supporter items. Several clubs use them to reward fans who renew their membership:
> In the case of Cercle Bruges and Zulte Waregem, new members receive the club's scarf.
> Beerschot offered new members the chance to buy the 2020-2021 match shirt at a particularly competitive price (35 € instead of 80 €). So far, more than 3,000 shirts have been sold, which will no doubt colour the Kiel stadium purple in the near future.


4. Don't neglect your business partners
When people think of fan experience, they spontaneously associate it with hardcore football fans. As a result, a football club's business network is easily overlooked, even though it constitutes a valuable target group. Do you wish to maintain the connection with your business partners whilst providing a degree of visibility? Why not consider a joint merchandising campaign?
Reward your members for their loyalty
Get inspired by our catalogue