Club Brugge merchandising strategy perfected after brainstorming with fans
'No sweat, no glory' is the motto of Club Brugge. Translated into merchandising terms, it would roughly sound like 'no strategy, no sales'. After all, a well-devised merchandising strategy is the foundation for successful sales. Club Brugge recently organized a brainstorming session to outline its strategy and come up with creative product ideas: merchandise & e-commerce manager Gauthier Vervaeke decided to retire to the training complex with a few die-hard football fans and the fan consultants of Topfanz. Three questions allow us to look back and ahead.
Why did Club Brugge decide to brainstorm about a merchandising strategy?
Gauthier Vervaeke: 'In my previous job, I was involved a lot in offline and online sales (Gauthier was employed by Fun, a toy company, ed.), but not in football merchandising. That's why a brainstorm during my 'honeymoon period' in this job seemed appealing to me. It allows us to fine-tune our merchandising strategy.'
'On the one hand, it enables you to gain a lot from the experience and market knowledge of a merchandising specialist. On the other hand, it allows you to develop a strong bond with the fans. Because two avid Club fans had joined the discussion – as representatives of the supporters' associations, you could feel the beating heart of the club right up to the injury time of our brainstorming session. That kind of connection with club culture is the starting point of all successful merchandising.'
Which ideas have stuck with you the most?
Gauthier Vervaeke: 'The main lesson I learned about merchandising strategy was to think in terms of target groups. The overall question 'which new merchandising product shall we launch?' is a difficult one to answer. If you work with a specific target group – e.g. children, women or business partners – you'll notice gaps in your offer much faster. That's how I discovered B2B as a new target group. If you offer customized products and organize a match-related event, there's a revenue model in this for merchandisers.'
'The most original idea? No doubt installing a vending machine in the stadium to sell weather-related merchandising. In winter, fans often underestimate the cold or can be caught in a heavy downpour. Of course, a quick visit to the fan shop is not an option during a game. With vending machines selling rain ponchos, knit caps, scarves or heat patches, you can really make a difference then.'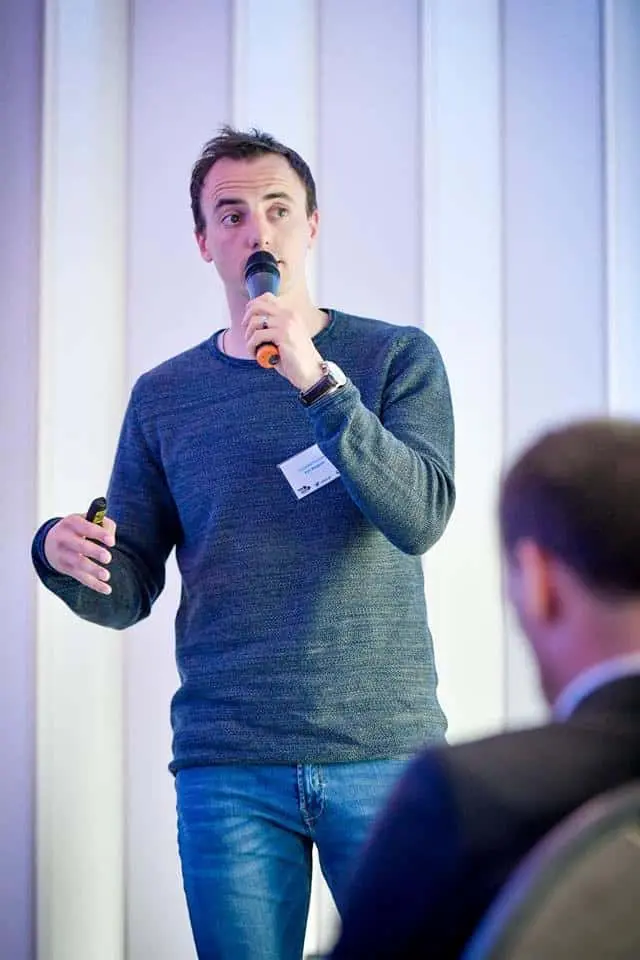 How do the results of the brainstorm fit in with your current merchandising strategy?
Gauthier Vervaeke: 'We focus on different channels for our merchandising strategy. Our own sales (in our fan and web shop) and our collaboration with resellers (small-sized, independent shops such as newsagents or sports shops, ed.) are on the rise, which is partly due to the success on the football field, of course. Our margin for progress is to be found in three other channels. First of all, we want to strengthen our ties with large retailers. Next, we feel there are opportunities in sponsorship campaigns on match days – think of Unibet, which hands out 1,000 customized footballs to fans. Finally, we strongly believe in licensing. That's why we recently signed a deal with a manufacturer of Club Brugge bicycles.'
'These channels will be used to distribute authentic products with a high-quality appearance. We intend to meet on a regular basis and draw up an annual planning with all the key moments (e.g. the season's start, Christmas & New Year, etc.). In the short term, this novel merchandising strategy will result in a number of new products. Among other things, we plan to launch a beach volleyball to be used on the beaches during summertime. But also a range of products for babies (e.g. bibs and soothers) and for children (e.g. lunch boxes, onesies, and gloves). We're also investigating if we can work with our fan club to launch an authentic clothing line in the future.'
Would you like to know more about merchandising strategy?
These are our building blocks.